ประวัติโรงเรียน
About us
---
            OKLS or "Oriental Knowledge and Language School" offers Chinese and Japanese language courses as well as oriental knowledge, including Chinese music
and Chinese brush painting. Our school was first established on 3 October 1998 at Seri Center Shopping Mall on Srinakarin Road in Bangkok, under the supervision
of the Ministry of Education.
            OKLS was the first Chinese language school ever opened in shopping malls, which helped inspire enthusiasm for Thai people to learn Chinese ever since.
The founder was a member of the Ministry of Education's Chinese language curriculum committee.
            At present, OKLS has expanded to various locations around Bangkok and other provinces through franchise system to a total of 13 branches.
We are well recognized as the leader in Chinese language school business with the most number or branches and excellent-quality curriculum, teachers,
environment and service.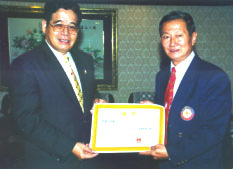 His Excellency Fu Xue Zhang, Ambassador of the People's Republic of China to Thailand, as the Prime Minister of China's representative,
presented the Certificate of Excellence in Education Management to Mr. Bundith Lojanatorn, Director of OKLS.
            Besides the classes at our school, OKLS has also been entrusted to organize, manage and supervise Chinese language classes for various institutes,
including public and private universities, schools and leading companies. We encourage our students to enhance their language skill as well as to learn Chinese
and Japanese cultures though activities; some of which are:
Summer Camps in China
Chinese Camps
Academic activities
            OKLS is determined to be the best Chinese language school and create satisfaction for all of our students. OKLS is our pride.
---